Whats On at the Wigan Theatre Festival
The Alpabet Girl - By Award Winning Renny Krupinski
2ND SEPTEMBER 7:30
Mill At The Pier home to ALRA NORTH
BOOK TICKETS: https://www.ticketsource.co.uk/alra
The Alphabet Girl is a one-woman show written by award winning Renny Krupinski and performed by Kaitlin Howard,
a previous Manchester Theatre Awards Best Fringe Performance winner.
Howard's performance spans three generations of women, the blackcurrant and gin-swigging grandmother Maisie, broken and intimidating mother Lily and then daughter Ivy, who takes us through to the present day.
Kaitlin Howard is a brave, subtle and versatile actor – she plays all three characters with conviction. First on stage is Ivy who appears naive and wide-eyed, talking into a camera mounted on a tripod, she describes her mother and grandmother. A leopard print faux fur jacket later and Howard transforms into grandmother Maisie – her face hardened and her hands shaking, ravaged by drink and bitterness. A particular highlight is Lily, a well-spoken and deeply intimidating character who addresses the audience directly and holds their gaze for slightly longer than is comfortable. And it is through this that Howard succeeds in creating a chilling, mysterious and heightened theatrical experience.
Writer and director Renny Krupinski's script is a marvel – it is poetic, elegant and direct yet beautifully woven with hints and clues for the audience, which become shockingly significant later on in the monologue. Spanning three family generations, there is a frequent shift in chronology and viewpoint which also keeps the audience slightly disorientated, adding to the eerie and surreal atmosphere.
With a running time of 1 hour and 10 minutes, The Alphabet Girl is darkly amusing in parts, lyrically beautiful and also deeply disturbing. What starts out as a nostalgic journey through a family photo album actually reveals itself as being
something far more sinister, with dire consequences.
WATCH TRAILER HERE: https://www.youtube.com/watch?v=LHlzPXYAfJQ&feature=youtu.be
---
MIND THE GAP- BY LUKE WALKER
DIRECTED BY LEANNE KELLY
3rd 4th 5th 10th 11th September Mill At The Pier
BOOK TICKETS https://www.ticketsource.co.uk/alra
Midnight. Last tube home. Stuck in a tunnel. Lights go out.
How can you trust someone when you can't see their face?
Whose 'truth' do we believe? Can you really forgive and forget when the lights come up again?
Nominated for Best New Play, Manchester Evening News Theatre Awards.
---
FOUR 15 MINUTE PLAYS BY TOP TV WRITERS Justin Moorhouse, Dave Simpson, Diane Whitely
DIRECTED BY JOHN CHURNSIDE
3rd 4th 5th 10th 11th September
7:30 Mill at The Pier
BUY TICKETS HERE https://www.ticketsource.co.uk/alra
Previously part of Manchesters JB Shorts these 15 minute plays have been redirected by John Churnside.
They include Leacky bacon by Justin Moorhose an intriguing title for an intergenerational piece about
how we all get squeezed in life.
Secret Lives sees a middle aged man in hot water, after his wife and the national news papers find out
about his fictional alias which he creates to escape his mundane life.
---
NORRIS AND PARKER PRESENT 'ALL OUR FRIENDS ARE DEAD'
One night only 12th September 7:30
Mill At The Pier home to ALRA NORTH
NOT SUITABLE FOR UNDER 15s
BOOK HERE FOR TICKETS https://www.ticketsource.co.uk/alra
Darlings of the Manchester Fringe comedy scene Norris and Parker are back with an updated version of All of Our Friends Are Dead, their anarchic character sketch comedy show that took Manchester, Camden and Edinburgh by storm last summer.
Possibly the most vibrant comedy performers on the scene at present, All of Our Friends Are Dead is a bright and relentless hour of fast and furious comedy as the talented duo present a mix of surreal characters, daft songs and gentle self-deprecation. It's a winning formula that had the audience in stitches.
From their character assassination of hipsters in catchy musical opener "Everyone Wants to be a Twat" through to the ever entertaining Tyldesley Ladies, a choir made up entirely of strangely cheery widows, the characters that inhabit Katie Norris and Sinead Parker's world range from the sublime to the frightening.
The supposed real-life rivalry between the two performers is a definite strong point. Their strong relationship with each other is parodied on-stage with in-fighting, name-calling and constant jibes about each other's sex life (or lack of as the case may be) provide hilarious results.
Other memorable sketches include Giles and his long-suffering wife Anne, 80's washup Brian ("Cold, dark and damp, and that's just me trousers") and Mancademy – a course to turn man from mouse to sex machine. The frequent musical interludes are catchy and funny. Parker's twisted cover of Disney is made even more hilarious by Norris's consistent hissing: "You're killing Pocahontas".
Rich with laughs and laced with a healthy dose of surrealism, Norris and Parker are once again a gem in the fringe scene you'd be mad to miss.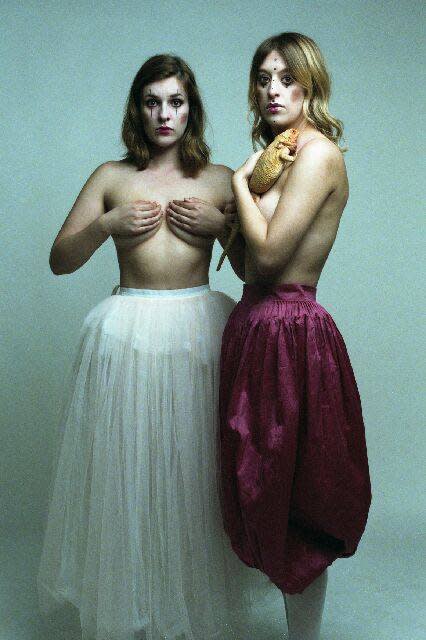 ---